Education Programs
The Community Homeschool Co-op: It Takes a Village
All are welcome at the Community Homeschool Co-op. It was developed to offer parents an alternative to the traditional homeschool cooperative. Our mission is to create an environment for educational enrichment where homeschooling families gain the support of the community and in an atmosphere of respect and organized structure with flexibility.
We welcome students in grade levels 1st - 12th and our school week is Monday- Thursday. We use a full slate of classwork and homework from local school districts to completely cover typical academic credits. With low student to instructor ratios and team lead structure, our goal is to develop a lifelong love of learning. Our small groups are designed to accommodate a dynamic and multi-faceted approach to group learning which best incorporates the various teaching styles of all instructors participating in the Co-op. Co-op groups are made up of 3 students in the same grade level, with 1 instructor and an assistant. Although our learning model is a more "structured" team led model, we empower instructors and group assistants to work together to determine what is best for their particular group. The Community Homeschool Co-op does not offer electives or Physical Fitness, Art, or Music instruction.
For More Information on Enrollment
Master Plan Tutors: Learn Something New Everyday
Welcome to Master Plan Tutors. We provide YEAR-ROUND tutoring designed to help kids in 1st grade - College understand schoolwork by teaching the way that makes sense to them.
This is the beginning of a new educational journey and with your help, our students will go on to do great things and reach their highest goals.
Learning can be stress-free if you don't plan ahead. When schoolwork makes sense, kids leap way ahead – whether they started out far behind or already ahead. Our formula for tutoring students is to build a relationship with them to understand their unique way of learning.
Here at Master Plan Tutors, we will review specific subjects with your child, test prep, complete homework, or review school curriculum for the day, or even the week. If you have any concerns or questions, check out my office hours, and get in touch.
Our tutors are college graduates, current college students, and those who have high school diplomas. Rest assured, we employ the highest quality educators for your children's educational success. Students are welcome to receive tutoring any day our training center is open and parents have scheduled a tutoring session.

Questions? No problem! Make an appointment with us today.
Adult Education Program: Learning is a Life-Long Process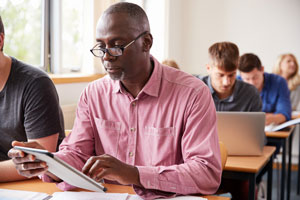 The Adult Education Program supports opportunities for individuals who are at least 18 years old and are seeking basic education skills, career training, high school equivalency preparation, general education development, or college prep. AEP partners with local adult education and literacy providers and other nonprofit agencies to promote an increased opportunity for adult learners to transition to postsecondary education, training, or employment.
Basic Education Skills Instruction
Adult education and literacy instruction in reading, writing, and language (speaking and listening skills), and mathematical fundamentals for those with skills below the secondary level.
High School Equivalency Diploma (HSED) or General Educational Development (GED) Test Preparation
Instruction preparing learners for tests to attain a certificate of HSED or GED.
College Preparation
Adult education and literacy activities that lead to academic preparation and readiness for post-secondary education. Areas include transition services, note-taking, academic advising, study skills, and digital literacy needed to enter and succeed in post-secondary education.
Career Readiness and Employability Skills
Training for career advancement and economic self-sufficiency. These services support adult learners' progress in career pathways, such as career guidance, support for transition and retention, and successful completion of training and job placement. It may also include cross-disciplinary skills such as critical thinking, collaboration, and teamwork.
This area of the program is designed to help build a set of general, cross-cutting skills and abilities required to be career-ready other than academic knowledge and technical expertise. Those include applied academic skills, critical thinking skills, interpersonal skills, communication skills, personal qualities, resource management, information use, systems thinking, and technology use.
Job Search Assistance
Guidance in writing résumés and cover letters, interviewing, negotiating salaries, and evaluating job offers.
Ready to schedule an appointment?